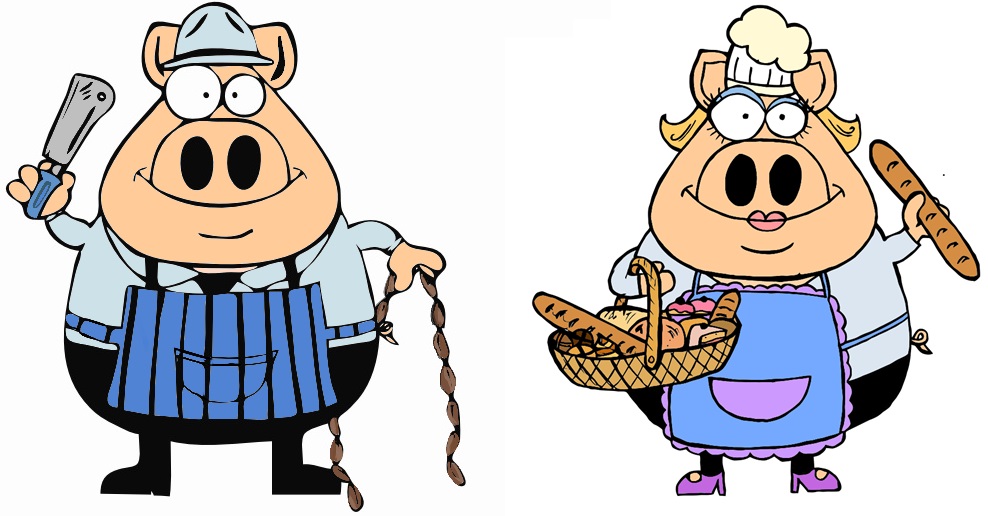 - Quality Local Produce -
Traditional Family Butcher
Here at Meat in The Square our aim is to offer the best quality meat, poultry and game at fair prices, from the most local sources possible.
With 30 years of butchery experience, Dave Tupper offers a traditional style of service,freshly preparing orders to meet individual
customer needs.
Please browse through our website and be sure to email or call us via the contact page.
Bakery, Deli & Greengrocers! In July 2014 we expanded the shop so we now offer even more fresh produce! Please click here for all the information about our and More! side of the shop!
We stock delicious cakes and pastries, rolls and bread from The Merry Miller. And we have a range from Angmering's very own artisan bakery, Loaded Loaves. Cheese, cooked meats, pies,

pasties, eggs and milk are over in our deli fridge plus we offer a good range of fresh fruit and veg.
Our produce is freshly prepared in the shop in front of you, so you can tell us exactly how you like it. If there is a particular cut or item that you would like, jusk ask!
Dave has been out all over Sussex and Hampshire sourcing the finest meat he can find so is able to tell you as much about the products as you would like to know. Our beef and lamb have predominantly come from farms within a 15 mile radius. They are hand picked for us to Dave's specification, and this helps to maintain high quality meat all year round. The animals go to a small, family run abattoir in Henfield, so we keep the air miles and our carbon footprint down too.
Our pork is generally from Scotts of Storrington, Beef and Lamb mainly comes from local tried and trusted farms such as Gadds at Fittleworth, Starleys at Henfield and Passmores at Coombes Farm, Lancing.
----------------------------
Opening hours:
Tuesday - Friday 8:30 - 5:00 pm,
Saturday 8:30 - 2:00pm
Closed Sunday & Monday
Telephone and email orders welcome
---------------------------------
Contact us:

Tel: 01903 771771
Email: info@meatinthesquare.co.uk
----------------------------
Dear Customers
Temporary Closure
30th March 2020

It is with great sadness that we have taken the decision to close temporarily.
We have really struggled with this decision as we are letting our loyal customers and community down, but we have been totally overwhelmed with orders, and can't keep our staff safe.
Over the past 2 weeks we have had close contact with over 1000 customers (more than double our normal rate) in the confines of a small shop despite the distancing measures we put in place – over 1000 risks of infection to ourselves, and passing it on to you and your households. We have been working almost 80 hours a week and our own health – physical, mental and emotional has been battered. This is just not sustainable or safe, and we cannot continue to put Louis and his family at risk.
We have had many a sleepless night trying to work out a way forward but cannot find a workable solution. We simply cannot scale up to do over 400 home deliveries a week. To scale it down to something manageable would mean choosing which customers to serve and not – how would we choose between you? We promise you we have been through every possible way of continuing, but we are just too small an operation to cope.
We will try this week to fulfil all the outstanding orders and to contact those that are affected. We will review the situation weekly and return as soon as its is safe and practical to do so.
We totally understand if you choose to shop somewhere else in future, but we really hope that you will all keep safe and well, and that we see you all again when this nightmare is over.
With our deepest regrets and very best wishes
Dave, Sophie and Louis
----------------
Gluten Free

Dave makes gluten free sausages and burgers monthly and we keep stock in the freezer. It is worth checking through the ingredients with us to make sure there is nothing to cause a reaction if you are a coeliac.
Free Range Pork from Storrington -
now stocked every week! Order yours before we run out as it goes very quickly!
All photographs, illustrations and content copyright to Amy Daniel.
All rights reserved.